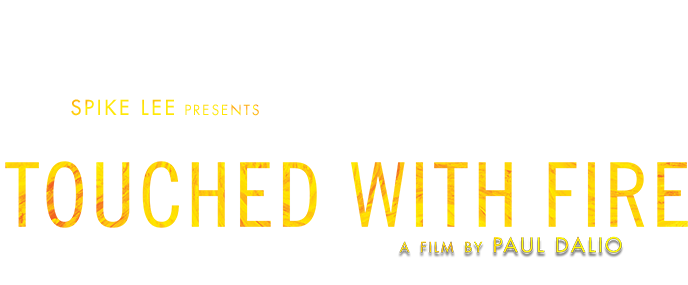 Synopsis
Touched with Fire stars Katie Homes and Luke Kirby as two poets with bipolar disorder whose art is fueled by their emotional extremes. When they meet in a treatment facility, their chemistry is instant and intense driving each other's mania to new heights. They pursue their passion which breaks outside the bounds of sanity, swinging them from fantastical highs to tormented lows until they ultimately must choose between sanity and love.

Inspired by the film maker's own struggles overcoming bipolar disorder, Paul Dalio wrote, directed, edited and scored his feature film debut which also includes performances by Griffin Dunne, Christine Lahti and Bruce Altman.  The film is produced by Jeremy Alter and Kristina Nikolova and executive produced by Spike Lee.
Reviews
"Luke Kirby and Katie Holmes boldly meet the challenge of playing bright, high-strung artists. An extraordinarily sensitive, nonjudgmental exploration of bipolar disorder and creativity."


CLICK FOR MORE

"Shines fresh light on bipolar disorder and creativity."


CLICK FOR MORE

"Sensitively detailed and emotionally compelling."


CLICK FOR MORE

"Katie Holmes Best Performance in years."


CLICK FOR MORE

"Ferocious and full of life."


CLICK FOR MORE

"Extraordinary writing, direction and performances."


CLICK FOR MORE

"A masterful drama with an impact unlike anything else."


CLICK FOR MORE

"Emotionally Searing and ultimately unforgettable."


CLICK FOR MORE

"A thoughtful, touching, and beautifully acted film."


CLICK FOR MORE

"Paul Dalio's script and direction, and the marvelously evocative score he composed for the film as well, are all of a caliber that easily takes us far beyond movie-of-the-week territory. Go see for yourself."
PLEASE HAVE CLICK OUT TO THE ATTACHED PDF: ELLE – February Issue – "Director's Spotlight: Mad For Each Other"
Katie Holmes

as

is an actress who has received critical acclaim for a broad spectrum of diversified roles on stage and screen. Her many notable film credits range from the blockbuster Batman Begins, directed by Christopher Nolan, to critically acclaimed art-house pictures such as Ang Lee's The Ice Storm and Peter Hedges' Pieces of April.
Holmes just wrapped production on All We Had, which she both directed and stars in, alongside Richard Kind and Eve Lindley. Holmes can also be seen in a dark comedy she helped produce, Miss Meadows, which made its debut at the 2014 Tribeca Film Festival; the sci-fi film, The Giver, opposite Jeff Bridges and Meryl Streep; and drama Woman in Gold, co-starring Helen Mirren and Ryan Reynolds. Holmes returned to television in the summer of 2015 starring opposite Liev Schreiber in the third season of Showtime's hit drama "Ray Donovan."
Holmes is the first global ambassador for Olay. She is also the global ambassador and spokesperson for Alterna Hair Care.
In 2012 Holmes starred in the Broadway production "Dead Accounts," opposite Norbert Leo Butz. She had previously made her Broadway debut in the 2008 limited run of Arthur Miller's "All My Sons," in which Holmes starred opposite John Lithgow, Patrick Wilson and Dianne Wiest. Her portrayal of Ann garnered glowing reviews and established her as an accomplished actress on both screen and stage.
Holmes' film career began in 1996 when she landed the role of Libbets Casey opposite Tobey Maguire and Sigourney Weaver in Ang Lee's award-winning drama The Ice Storm. Since then she has worked with some of Hollywood's most prominent actors and directors, on films such as Curtis Hanson's Wonder Boys, Jason Reitman's Thank You for Smoking, Sam Raimi's The Gift, Stephen Gaghan's Abandon, Doug Liman's Go, Joel Schumacher's Phone Booth, Keith Gordon's The Singing Detective, Forest Whitaker's First Daughter, Kevin Williamson's Teaching Mrs. Tingle, David Nutter's Disturbing Behavior, Dito Montiel's The Son of No One, producer Guillermo Del Toro's Don't Be Afraid of the Dark, Dennis Dugan's Jack and Jill and Shari Springer Berman and Robert Pulcini's The Extra Man.
Holmes executive produced and starred in filmmaker Galt Niederhoffer's The Romantics, an ensemble romantic drama with Anna Paquin, Josh Duhamel, Malin Akerman, Candice Bergen and Elijah Wood.
In 1997 Holmes was cast as Joey Potter on the WB TV series "Dawson's Creek," opposite James Van Der Beek and Michelle Williams. The show became the highest-rated series on the WB network throughout its six-season run. Holmes has since appeared on television in "The Kennedys," playing First Lady Jacqueline Kennedy opposite Greg Kinnear as President John F. Kennedy. The miniseries chronicled the story of the most fabled political family in American history and garnered 10 Emmy® nominations, including Outstanding Miniseries.

Luke Kirby

as

is an up-and-coming actor. He has amassed television credits such as "The Good Wife," "The Astronaut Wives Club," "Show Me a Hero," "Tell Me You Love Me" and "Slings and Arrows." More recently, Kirby completed filming the third season of the Sundance series "Rectify," as lawyer Jon Stern. On the big screen, he starred in Sarah Polley's Take This Waltz, opposite Michelle Williams and Seth Rogen, and The Samaritan, with Samuel L. Jackson. His next feature film is Lasse Hallström's A Dog's Purpose.
A graduate of the National Theatre School of Canada, Kirby recently appeared Off Broadway in "Too Much, Too Much, Too Many," at The Roundabout Theatre.

paul dalio

the

Began screenwriting at age 20, when he attended NYU's Tisch School of the Arts, dramatic writing program. When he graduated in 2004 he relocated to Los Angeles to work for a film producer. Shortly after arriving, he suffered his first manic episode and was diagnosed bipolar. For three years Dalio was in and out of hospitals. During that time he immersed himself in the New York underground rap-battle scene under the alias "Luna" (short for lunatic). To support himself Dalio made documentaries for non-profits while writing a rap musical film about a boy's descent into hell.
In 2006 Dalio attended NYU's graduate film school but during orientation week had another manic episode and was hospitalized. During the depression he got a job in construction and took up poetry as a means of coping. Upon recovery he returned to NYU where he met his wife and collaborator, Kristina Nikolova. His professor, Spike Lee became a mentor to Dalio and offered to executive produce the rap musical he had written during his swings. His wife urged him to pursue his more personal script, "Touched with Fire."
He presented it to Spike who believed in it and came on board as executive producer. Dalio is currently co-writing Nikolova's next feature while writing his own. They currently live in New York with their two children.
Credits